Papparazzi Sparks Students Excitement…. JSEC–Photo Day 2018-2019 Very Successful
Students arrived to school this past week combing their hair, ensuring line-ups were in tact, applying make-up to ensure it was just right, and straightening out clothing to look just right.  On Tuesday Nov 27th, and Wednesday Nov 28th, JSEC had it's annual photo day.  Based on student attendance on both days, an estimation that at least 96% of the JSEC Student body were photographed within the 2 day photo period.  This is a huge increase from years past and is an indicator that students are coming to school with some passion that they not only want to be here to learn but also want to be part of the JSEC community.
Some groups came down and simply had their photos taken and returned to class.  Others came down and requested a group shot of them with their teacher as is pictured here.  Ms. Holt's Class came down and had a lot of fun with our school photographer Ms. Diane Clement.   Diane has a freelance agency in Massachusetts and really enjoys working in dozens of schools in New England.  We were lucky to schedule her for this 2-day shoot due to her extraordinarily busy schedule around the holidays.  Our sister school, 360, heard about the great photos Diane has taken and decided to follow JSEC's lead and have her photograph their entire school 2 days following our photo days.
Photos will be used for  be used identification purposes,  yearbook grade-level photos, Staff Photos, and potentially used for Skyward and student Id's.   It is important to remember that Administration really need to know who is in the building at all times and ids and yearbook references are great ways to identifying each and every person in a school setting.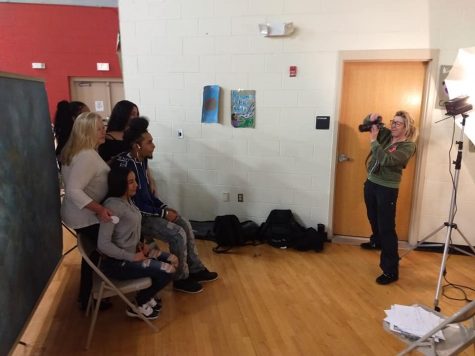 Photographer Diane Clement photographs Ms. Holts English Class