JSECs Cross Country Team is Represented in 2019 RI State Championship
On Saturday October 24th, at approximately 12:30 pm, The Juanita Sanchez Educational Complex cross country team took part in the RI State Cross Country Championships, located in Ponagansett RI.  The day started out very cold as we walked to JSEC to catch the bus but this time it wasn't for all of us running but to not to cheer on our very own Muhari Nayte.  Muhari  is an 11th Grader here at JSEC and was only one of two, the former being Christian Figueroa,  JSEC students ever to qualify for their RI State Championships.   As we all boarded the bus, we were all joking, laughing, listening to music, and having a great time and as we travelled the temperature got warmer and enthusiasm and excitement grew as we approached the racing venue.
The first race was the girls race which was soon to be followed by the boys race.  We unfortunately did not have any JSEC girls qualify this year.  Prior to the race Muhari was listed in the top 6th fastest in the state which qualified him for this very race.  His original time as 18:17  which qualified him for this event.  There were over 160 competitors and Muhari ran fast, hard, and with determination.  Today he finished in 100th place, with a time of 17: 56 which is pretty impressive.  Although he did not win he gave his all as has served to be a role model for us other Cross Country Team Members who desire to improve our times.
Ponagansett High School course consists of a   hilly course comprised of 1/3 fields and 2/3 woods, with 3 bridges including a beautiful handcrafted covered bridge. The start and finish of the course take place mostly on the Ponagansett athletic fields.  The Trail (2 miles long) is on average (approx) 18 feet wide with a surface composed of 1/2″ packed, processed gravel. The first major uphill (Indian hill) begins at 1.1 miles (a short, somewhat on the steep-side uphill) into the race. It is followed by a long (.5 mile) downhill. Runners gradually begin to climb again at about the 1.7 mile mark, with a challenging 300m, 2 stage uphill beginning at about the 2.15 and ending at the 2.35 mile mark. Runners emerge out of the woods for a .35 mile finish on the athletic fields that culminates with the finish line straightaway to the finish line on the grassy infield inside of the track in front of the athletic stand bleachers. The trail is wide, well-groomed and completely absent of rocks, roots & mud.  Race officials only are allowed inside the track fence, this allows for the entire finish of the race to be viewed by all coaches and spectators. The 1 mile mark is easily accessible by coaches for the recording of mile splits. The 2 mile mark is easily accessible for team managers to record 2 mile split times.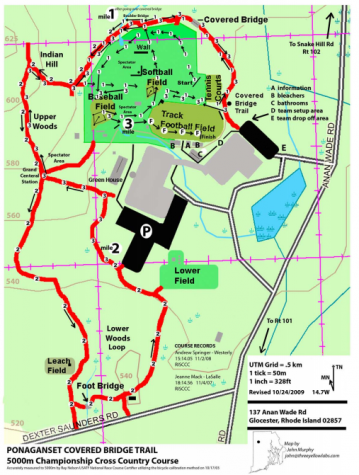 One of cool things about the race is that there were shirts for sale that had all the qualifiers listed on it.  We ended up buying some and I was really proud to see my teammates name listed on the shirt.  The shirts were really cool, they were blue, red, and white and something anyone would be proud to wear.  I hope someday that I get listed on that shirt but know I need to work harder to improve my run times.