Ms. Lombardi and The Cellular Connection Team Up To Get School Supplies to JSEC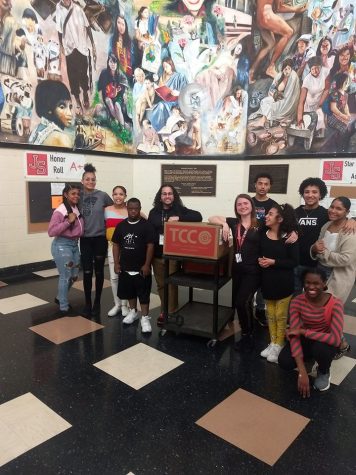 As quarter three lingers on, teachers are scrambling to get more supplies for students to use for projects and be prepared for class everyday. We are always in need of freshly sharpened pencils, clean and crisp notebook paper as well as boxes of tissues to keep germs away.
On Monday, February 24th, Ms. Lombardi surprised JSEC faculty with some donated materials from TCC Verizon in Coventry, Rhode Island. The store's district Manager, Rafael Valentin (pictured) brought ten boxes filled to the brim with everything a teacher needs, including: notebook paper, glue sticks, erasers, pencils, tissues, crayons, sticky notes and dry erase markers!
The Cellular Connection (TCC) is a distributor of Verizon products, including cell phones and Fios equipment for homes and businesses.
"At TCC, we pursue making a difference is modeled by our Culture of Good. Our Culture of Good has three components being driven by purpose. If any one component has less focus and energy invested in it, the company becomes imbalanced.
Our mission here at TCC is to make employees, customers, and communities better." (TCC's Mission Statement).

​On behalf of Juanita Sanchez, we thank you Mr. Valentin for your 
kindness, generosity and supporting our students!
Brittany Lombardi
Dance Artist in Residence
Juanita Sanchez Educational Complex