JSEC's Art Teacher Takes On A Whole New Role & Living Beyond Her Wildest Dream!
On Monday April 26th the Newspaper Staff rolled through the gym to cover Mr. Maione's and Ms. Garland's Basketball Practice.    Yes that was not a typo, Ms. Garland, our Art Teacher, is now co-leading our JSEC Unified Team!  While Mr. Maione has been doing an amazing job coaching the Unified Basketball Team for the past few years and he sought out to recruit an assistant coach for the 2021 Season as an attempt to maximize skills from his players.  He decided to pass  Ms. Garland the ball and she took it and brought it to the hoop!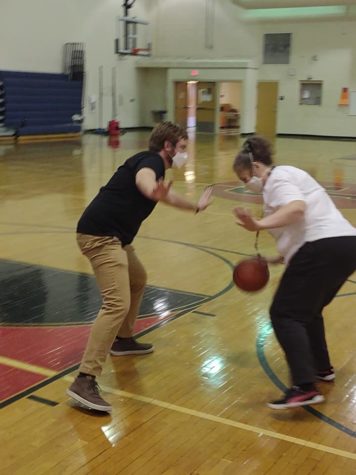 Instead of a long story about what we could tell you about Ms. Garland (Ms. G), her thoughts on coaching and JSEC, and her genuine passion and excitement for this new venture, we decided to have our very own Gineiris Castillo and Roseline Taveras comprise key interview questions & work together in front of and behind the camera to pepper Ms. G with questions.  Please check out the You Tube Video Clip below.
Needless to day this season promises to be full of fun, excitement, and of course celebrations.  JSEC Athletic Department welcomes Ms. Garland as the newest addition to the coaching staff. The JSEC Newspaper Staff would like to thank Ms. Garland for taking the time to grant us this much sought after interview.