President of America's largest teachers union visits JSEC!
This past Wednesday, 5/19/21, Randi Weingarten, the President of the American Federation of Teachers, visited JSEC in support of the students, teachers, and staff here at JSEC.  The day was filled with excitement of her visit by many staff and the media flooded the halls of JSEC.  Upon arriving the media was waiting for Ms. Weingarten and upon he walking from the parking lot into our entrance she paused to speak to reporters.  As cameras were clicking rapidly and numerous questions from reporters she stopped and said " I am surprised at the quantity of reporters here, but I must say I am here for the students and teachers, I am here for a school visit, and will gladly answer your questions once I have visited the students and staff here, you are more than welcome to visit walk with me, but I will not be answering any questions until my visit is complete"  This video clip showcases JSEC and the days events.
President of America's largest teachers union visits Providence schools
Following this brief comment Randi entered JSEC was welcomed by our very own Mr. Robert Rametti & Ms. Ariana Testa.  They welcomed her with a few token gifts from JSEC including amongst other things: a coffee mug  for her to drink her morning coffee &  a couple of T-shirts.  Randi was accompanied by a fellow teacher and Providence Teachers Union President, Mary Beth Collabro.
Mr. Rametti and Ms. Testa greet that AFT President before touring JSEC.
The day included many walk-throughs and they spoke with many students and teachers throughout the visit.  They witnessed excellent teaching, creative projects, participated in an interview the Teacher Academy students,  computer class coding, and also observed students engaged in many classes here at JSEC.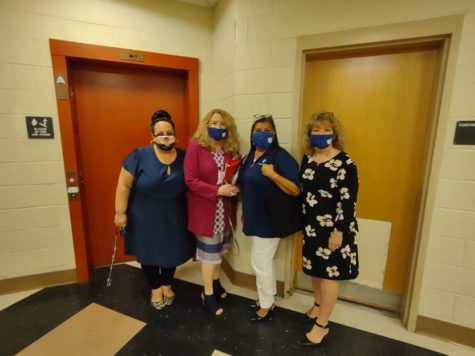 Ms. Weingarten observed, asked questions, then actually had a discussion with the students in Mr. Maione's class.  She spoke with them about who they like to listen to.  At first the class was quiet, which may have been due to the many cameras/media/guests in the room and outside the door.  Then the students started opening up.  One student, Ryan Taveras, gave this response: "I really like some rap music because some people just hear the noise or sounds, but I listen to the lyrics, it's a great way for us to hear what is being expressed in the lives of others and allows us to relate to such experiences, and know it's going to be ok". -Ryan Taveras  Ms. Weingarten shared that loved that answer and asked if they had ever listened, truly listened to any of Dr. Martin Luther King's speeches.  She then shared one of them and how it has been a foundational platform for her personally as motivation to make positive changes in education, especially in student's lives.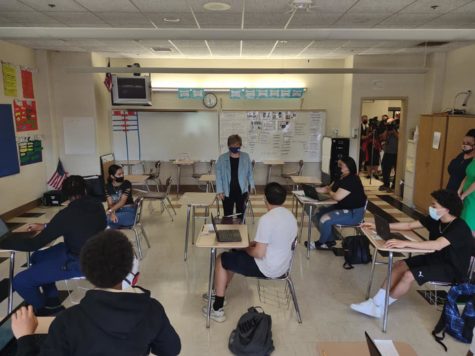 Our very own Roseline Taveras was part of a team that had a chance to meet with the AFT President.  Roseline said that she was nervous because she never saw so many new people in the building following them around with cameras, and  it was if there was a celebrity in the building.   After speaking with her she said that Ms. Weingarten was very nice, funny, and seemed like she really cared about what was happening here at JSEC.  Overall the day was one of the best days here at JSEC because it highlighted so many thing that we are doing right here.