JSEC Grads-Onward and Upwards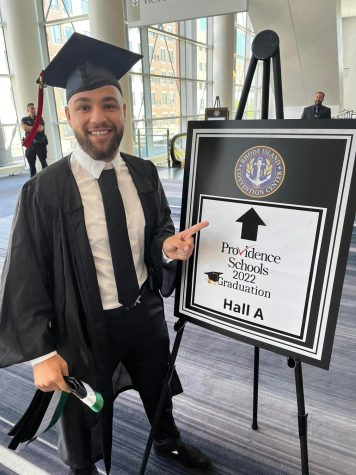 On Tuesday, June 14th, 2022, The William B. Cooley Health Science Technology High School & the Providence Academy of International Studies @ the Juanita Sanchez Educational Complex held its 19th Graduation Ceremony at the RI Convention Center.  Lots of preparation was put into the ceremony with rehearsals, speeches, singing, & celebration!  The students arrived at the Convention Center an hour prior to walking across the stage to receive their diplomas.   The ceremony consisted of the following:
Processional, Pledge of Allegiance, National Anthem, Principal's Welcome, Introduction of Salutatorian, Introduction of Valedictorian, and the Acceptance of the JSEC Senior Class of 2022.  It appeared that most teachers were in attendance to help commemorate the student's success.  Ms. D'Errico and Ms. De Hertogh oversaw the event along with other members of the Graduation Committee: Mr. Rametti, Mrs. Testa, Mr. & Mrs. Gormley.
Members of the Class of 2022 have been accepted into the following institutions of higher education:
Boston College, Bryant University, Community College of Rhode Island, Eastern CT State University, Emmanuel College, University of New Haven, Johnson & Wales University, Massachusetts College of Pharmacy and Health Sciences, MTTI, Providence College, Regent University, Rhode Island  College, Roger Williams University, Salve Regina University, Smith College, Trinity College, University of Connecticut, UMASS Dartmouth, & the University of Rhode Island.
PHOTO GALLERY PHOTO GALLERY PHOTO GALLERY PHOTO GALLERY PHOTO GALLERY PHOTO GALLERY PHOTO GALLERY