Interview with *Manny Barrows*–William B. Cooley's Grandson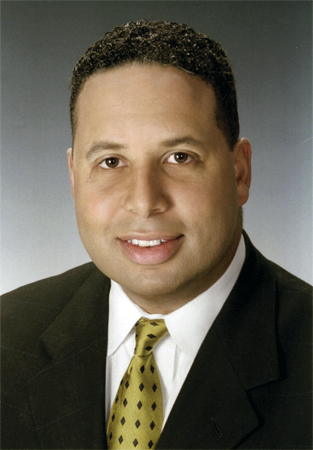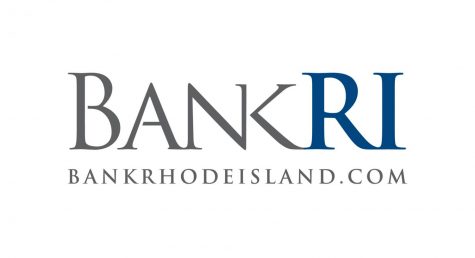 SPOTLIGHT INTERVIEW:
BANK RI: -Manny Barrows-Senior Vice President of Lending @ Bank RI
---
Each quarter our Newspaper Staff like to focus on one of our community partners to get more depth of the dynamics of their community outreach to not only us but also to the RI Community. This quarter we are spotlighting Manny Barrows, who is the grandson of William B Cooley, whose name appears on the name of our school.  The story showcases how one of our very own in the Providence Community has persevered and become a leader in the Rhode Island.   Our newspaper staff came up with several questions for him and were pleasantly surprised his responses that included much insight into how he thrives off of preparing the community for success.
What made you want to become the Senior VP of Lending at BankRI?
Becoming a Senior Vice President was not necessarily the natural progression of my career. It took a lot of time, effort, and recognition from my colleagues and the marketplace to rise to the level of Senior Vice President.  I majored in finance while in college, so going into banking seemed like a logical next step.
My banking career started in a management trainee program, where I learned nearly every job on the retail side of banking—from working directly with customers to the behind-the-scenes in the operations department. I was a teller and a customer service representative, which are both critically important to becoming a branch manager.  Because of my hard work and willingness to take on additional responsibilities, opportunities became available to me sooner than expected.  As a result, I became the youngest Branch Manager in the company.  I then moved from the branch level in retail banking to commercial banking and began working directly with businesses.  That's where I found my niche. On the commercial banking side, every transaction is different so you learn a lot about how businesses function and the role they play in our lives.  A big part of my passion for my job comes from wanting to help people with their financial needs.  Working one-on-one with customers to help them achieve their dreams and goals is very fulfilling and deeply satisfying.
What is your favorite thing about working for Bank RI?
My favorite thing about working for BankRI is being part of a great group of people that utilize their individual talents and work as a team to help our customers achieve their business and personal goals.
This is true whether someone is looking to get their finances in better order, take out a loan, or if they are seeking advice on the direction of their business. Small businesses, in particular, really look to their partners—in this case, their financial professionals—as trusted advisors and that's a responsibility I take very seriously. Everything they do has an impact on their business, and I want to provide guidance they can trust.
Bank Rhode Island's model of banking is relationship-focused, and so when you take that approach and the time to really get to know who you're working with, you become invested in their success. I find that very, very rewarding.
Please give us 5 words to describe you?
Those who know me know that I'm not really at my best when talking about myself. That said, this is a really interesting question and one that made me give it a bit of thought. The five words that I feel best describe me, in no particular order, are blessed, compassionate, competitive, positive, and helpful.
How do you try to give loans out to HS students if they do not have any established credit and their parents are not working?
I think the most important thing for high school students to know is that lending to individuals is only possible once they reach the legal age of 18 and have the ability to repay the loan. Everyone who applies for a loan must have the financial means to support repayment of the requested loan. For most young people a store credit card is their first introduction to lending, and they would most likely need someone to co-sign in order to open account. And once you have a credit card, how you handle it is very important to building your credit score and demonstrating a history of repayment. Accomplishing this makes you more attractive to bank lenders and minimizes the risk associated with giving you a loan. I often speak with customers and those I try to educate about the difference between needs and wants when it comes to credit and lending. Financial literacy is so important to establishing your personal credit for the future. One needs to identify whether a specific purchase is truly in their best interest if a loan is needed for it. Students under the age of 18 may not be in a position to borrow, but once they are, I encourage them to sit down with a financial professional to better understand everything it entails.
Can you tell us a few interesting things about you?
I see we're back to talking about me…well, first, I consider myself to be a lifelong learner. I am always looking to improve whatever I do—learning doesn't stop after school or once you get a job. I also love to give back and help those around me achieve their goals and aspirations, which I've always considered to be the sign of a good leader. More personally, I enjoy playing golf and I really enjoy working with young people and adults, whether it be coaching basketball or developing life skills. Participating in athletics can be very empowering for youth to learn about teamwork and how the actions of others impact them. I like to combine coaching and mentoring in one, which I feel helps youth to become well-rounded and understanding of others in life.
Can you give a memory of what it was like to be a child growing up in Providence before our school was built?
I have a lot of fond memories about growing up in the Roger Williams Housing Project; it was a very fun time in my life. We couldn't afford a house and the housing project provided us with clean and affordable housing. The most important things my parents stressed were family and education.  They made sure my brother and I had food, clothing, and a roof over our heads. As I got older, my eyes were opened to some of the things others had but were foreign to those of us who grew up in the projects. Things like a car when they turned 16, or the latest and greatest sneakers. I also realized at an early age that education was the path to change your life. My parents were a huge influence on us and were always pushing us to excel in the classroom. They simply wanted us to do better in life than they did, and for our kids to go even further. Looking back, there is no question that my parents gave us everything we truly needed to succeed if we worked hard.
What is the biggest challenge you feel you have working at BankRI?
It can be a challenge to get customers to understand the importance and value of their banking relationship in conjunction with technology at a time when so much has become less personal and more automated. Sometimes, giving someone money is not the right thing to do for them, or it's not beneficial for them to take out a specific loan. A good example of this was the mortgage crisis a few years back. Not with BankRI, but with other lenders across the country. People would qualify for a larger mortgage than they could afford by choosing an interest-only loan. But once the principal became due in addition to the interest, they were unable to afford the payment and would lose their home. So educating customers in these circumstances is the most important thing I can do. I want to help people understand the "yes" or "no" behind a decision and what they need to do to strengthen their financial standing.
If you could have one superpower what would it be and why?
To me, this was an easy one. If I could have any superpower, I would want to be able to fly. If I could fly, I could go anywhere I wanted, whenever I wanted. Let's be honest, travel is often our biggest consumption of time – sitting in traffic, riding the bus, crowded planes, etc. Being able to fly would not only take all of this out of the equation, it would be pretty fun!
What do you feel is the most serious issue affecting the world today and could you offer a couple of suggestions on how to fix it?
I don't think there's enough compassion towards each other, and I feel the world always can use more people willing to help others. We also need to do a better job being accepting of others. I truly believe that all of this starts with educating people about the differences we all have as a way to move our community forward and closer together. We are all human beings and should get along no matter the color of our skin or our religious beliefs. People are not born with negative attitudes or prejudices against others—those are learned behaviors. So what we all can focus on is teaching what's right. One thing that I work hard to practice in my day-to-day life is doing a good deed daily without expecting anything in return. More often than not, doing something for someone else makes you feel better than doing something for yourself. If everyone gave this a try, I think we'd see some tremendous results.
Have you ever thought about running for political office?
Yes, several times. In fact, it's a question I'm asked pretty regularly. But with the time I commit to my family, my job and my personal interests, I don't feel I'd be able to properly dedicate what's needed to serve in politics right now. That said, I do try to keep myself politically involved by supporting the people and causes that are important to me and society as a whole. Even if you don't serve in a political office, you can create change and have influence through participation.
Can you tell us, and this is the question many of us would really love to know the answer to, what is your relation to the William B. Cooley HS?
William Cooley was my grandfather and coincidentally, the building he lived in at the old Roger Williams Housing Project used to be located on the same site where the high school is today—it's such a familiar and meaningful area to me and my family. My grandfather was an amazing man and really served an important role in his community. Everything he did and stood for was focused on education for others. I still remember the most important piece of advice he gave me, which was how your education was something no one could ever take away from you. What you learn stays with you forever and has a major impact on the person you eventually become. That piece of advice, along with what you put into your body and the type of people you surround yourself with are not only powerful statements to live by, they're also very true.
Can you give us a description of what your grandfather was like and talk about things he did to improve the Providence Community?
Of everything he accomplished in life, he was particularly proud of the Roger Williams Day Care Center he started. Not only did it provide a quality education for young children so they'd be prepared for grade school, it also provided comfort for working parents because they knew their children were safe and being cared for in a nurturing environment. I know he'd also be extremely proud of what this educational complex represents, how it has grown, and what the future holds. My grandfather's primary goal was to ensure that the people from the South Side of Providence had the same opportunities as everyone else in the city and in the state. I think everyone in the community saw him as being their unofficial representative of the area, using his voice with mayors, governors and other community leaders to advocate and make sure needs of his community were met. That is the legacy he left behind and that, I feel, is still felt to this day.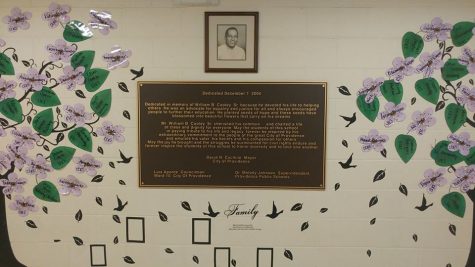 What's one thing you would like our students to know about Bank RI?
We have a tagline at BankRI, and that tagline is, "Banking is what we do, but Rhode Island is who we are." To me, that sums up exactly what I'd like everyone to know about BankRI. We are a community partner in every sense of the word; it's part of our mission to give back and take care of those around us. When I spoke earlier about our commitment to building relationships, that isn't limited to our banking customers—we build relationships with our entire community. I cannot stress how satisfying it is to work for a company that emphasizes service to others and provides its employees with opportunities to make a real difference in the communities where we live and work.
In sum Manny Barrows has always been a part of Providence.  Manny has followed in his grandfathers shoes to be a mentor/role model for many of todays youth.  He was taught and has proven that all can achieve if they work hard, focus on education, and build positive and healthy relationships.  This interview was very interesting where many of us were curious about how JSEC has the longest name of a high school in Providence and we learned valuable insight about Manny's grandfather whose name is literally embedded in our schools name:
The William B. Cooley Sr. Health Science Technology & the Providence Academy of International Studies @ the Juanita Sanchez Educational Complex
Our Newspaper Staff, agreed that we would give Manny a "Key to JSEC" like they give "keys to the cities" if it was possible.   We feel very lucky to not only have insight of the schools origins, but also to learn about Manny, his work at Bank RI, and what motivates him to succeed.  We hope that ALL JSEC students strive to follow a similar path that Manny Barrows has taken.