Tribute to Hector Nunez, our Lead Maintenance Staff, Left Us Too Soon
On Wednesday, 1/29/20, many students and staff walked into JSEC to discover one of our most beloved staff had passed away, Hector Nunez.  Hector has worked at JSEC for the past few years and took the reigns from day one.  He was super organized, quick to fix/clean/repair things, and for the things he couldn't do he instantly contacted an expert who could.  It was with a heavy heart JSEC says goodbye to Hector, most are in disbelief and incredibly sad with the news of this loss.     As comments keep coming in we will add to this story/list of comments related to Hector as he was beloved by all.    Prayers and thoughts go out to his entire family and all those who knew Hector who are experiencing grief at this time.  Administration announced that there are counsellors available for all students and staff and also will be holding moments of silent each day this week to remember Hector.  Also many students will be wearing black on Thursday, 1/30/20 as an expression of appreciation/mourning/respect for him and all the great things he has done for JSEC.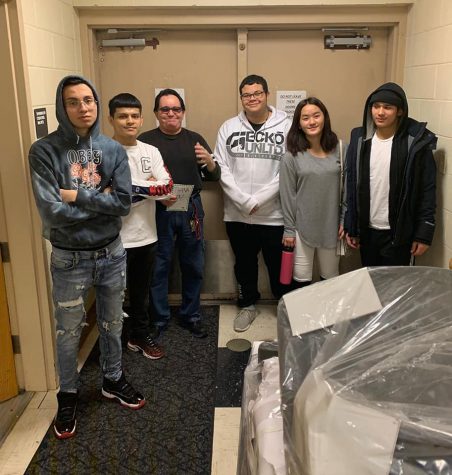 If anyone would like to add their own quote of remembrance please email your words/memories/thoughts to:
"[email protected]" and we will be sure to add them to this story as it will prove to be a testament of how much Hector was loved by the entire school community.    Also Hectors name was already in the top 3 choices for 2020 Person Of the Year, for the 2020 JSEC Yearbook so we believe this year's yearbook will be dedicated solely to him.
On Wednesday, January 30th, 2020 students took their lunch period to pay their respects and sign a card for Hectors Family to ensure they knew he meant a lot to them and will always be remembered.   It is so great to see the school community come together at a time of loss.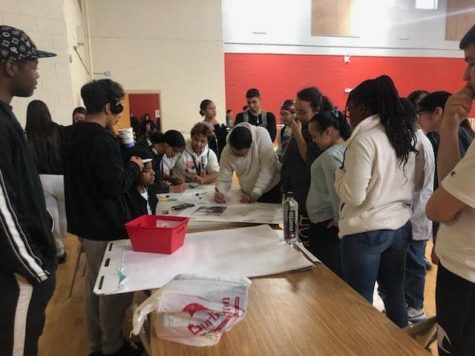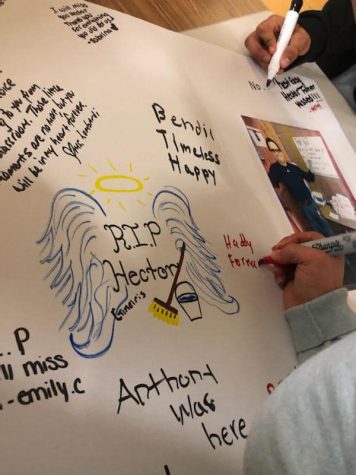 JSEC Remembrances/Tributes/Thoughts:
"It is with great sadness that the Kindness Crew and JSEC Community heard of the passing of Hector, our lead Maintenance Staff.  If you have ever been to JSEC, you would see nd hear all that Hector does, he was all over the building.  At the start of the school year he and his team would make magic happen by getting rooms and furniture moved, cleaned and working days on end.  Over the years Hector grew to love our work through our Kindness Initiative, often telling us "you are the best at JSEC"  & "you are changing the world" and he often let us break the rules when it came to getting the right permission to request items or materials for our events.  Every time we surprised him with a Kindness Wave he told us "you make me feel famous" he loved to pose for a picture with the kids and often said "please send me those pictures!" The JSEC Kindness Crew particularly is going to feel your loss, your presence, and your help.  May you rest peacefully Hector, we will keep making this world a better place in your honor as well"
-Ms. Molina & the Kindness Crew
"Hector was an awesome janitor, he was always picking up after others, instructing others to go to class, he was always happy and smiley, and its really sad to see him go"-Janelly Jimenez
"Hector fixed everything within hours, he was an amazing person, kind, friendly, and created an immaculate environment where we could be proud to call JSEC 'our school.  'Arriving everyday at 6:40AM I would pass Hector in the hallway and we would always check in and say 'Good Morning', and he would always ask: 'Is everything ok in the gym'   These weren't just words, you could tell he really wanted to make sure our environment was in tip top shape so teaching and learning could take place"  Rest in Peace Hector, you will be very much missed!   -Chuck Moreau
"Hector was a wonderful man and a gentleman. No matter what l ever asked of him he did with a Smile. Our school always looked beautiful on Opening Day! He was a hard worker who took Pride in his work. I will miss him as will everyone". -Lisa Minutelli
"So sad to hear this news gonna miss seeing him and always his smile and saying hello Hector was one of them janitors you can count on from the bathrooms ,lunchroom ,hallways ,classrooms always well clean gonna miss seeing him around" -Caprice Jackson
"He was the best cleanahhhh at Juanita, we'll miss him a lot" -Keturah Williams
"Sorry for your loss, you will always be remembered"-Ariana Washburn
" He was a really nice person who always respected us and he will be missed"-Tatiana Aponte
"Prayers and thoughts for all who loved him"-Jerizon
"Hector was a hard working man who made his presence rather quickly at JSEC. He embraced all of our students with his strong work ethic and morning hello's daily! For me, I will miss the opportunity in showering him with a Kindness Wave. Those are my best memories of Hector, he relished in the love of our kindness wave, often telling us "you make me feel famous." He went out of his way always whenever I asked him for guidance or help and always told us of his love for our work with the Kindness Crew. I'm grateful to have been able to work alongside such a thoughtful human" -Rose Molina
"I am absolutely heartbroken. I considered Hector a friend. I called on him for many things over the years and he was always so helpful and enthusiastic. I knew that I could trust him to help me care for the space I've created for my students. He would even help me brainstorm ways to make the art studio better. We had plans… and I will miss him."
-Sue Garland
"I work with hector for around 8 years he always had a smile willing to help co workers no matter what, him and i stayed in contact after i left the company when i heard the news i was in total shock i told the person that inform me please please tell me you kidding i received a tex yesterday from him ,hector would say to co workers that i was like a son to him i would truly miss him prayers to family memebers in his word el es como un hijo para mi waooo so sad farewell hector nuñez"
-David Esoejo
We are so saddened by the passing of a true blue gentleman, friend, and coworker at JSEC. There was never a day I could not ask Hector for a favor…. during the school year, after hours, weekends and during the hot summer months; any time of the day he would respond. Every year past, Hector would prepare my classroom for me, text me and always came to my rescue! Our classroom 52 always including Hector in our small intimate celebrations, and those events that required more. He worked so hard to make it happen for my students. We want to remember Hector for the true blue qualities that he embarked upon all of us: loyalty, devotion, sincerity, humor, and the simplicities of kindness that came so natural for him to express.
Hector Nunez you will be with us forever in time. "Rest in Peace"
-Ms. Kibarian, Ms. Wendy and our students: Kayle, Anette, Seanbonu, Bendji, Prince, Melody, Haddy and Katelyn.