JSEC & 360 Take Vermont By Storm–Sweet Life of Jadelyn & Adaliza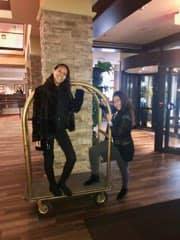 Adaliza Espinoza & Jadelyn Santos, Journalist + Photographer
November 9, 2018
SWEET LIFE OF JADELYN AND ADALIZA
When: Oct: 21-23
Where: Burlington Vermont
What: Barr Grant Educational Experience Conference
Who: JSEC & 360 Students
Two of our very own JSEC students travelled to Vermont with Ms. Testa on Friday October 21st, 2018.  We were there for a 3 day adventure showcasing education today, and potential educational opportunities in the future.  The trip was funded by the Barr Foundation and the trip seemed to have  a lot purpose as we felt empowered throughout each day.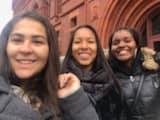 We rode up with Hillary and Anne from PASA, there were 2 JSEC students: Adaliza and Jadelyn, and two 360 students: Sanniya & Iralda.  The four of us were very proud to represent Rhode Island at the conference.   We were happy that PASA escorted us to the conference and that Ms. Testa and Ms. Onye met us up there the following day.    We were filled with excitement as we trekked up to Burlington Vermont for this 3 day event.
We travelled to the University of Vermont to take a much anticipated College Tour. The campus was huge, lots of buildings, trees,  and the students walking around campus seemed very friendly.    We did notice many students seemed look very similar and there may not be as much diversity here as there was in Rhode Island.   Following the tour we were lucky enough to have dinner with the whole RI Crew to reflect upon the day during dinner with our adult chaperones.
During our tour we had the opportunity to visit most of the college campus. Our very own Ms. Heald arranged to have her daughter who attends the University of Vermont me us and give us the best tour ever.  We got to see some classes which were small, some large, some were lecture halls, seminars, and I have to be honest, some of those type of class settings  scared me a bit, because it seems in that type of educational setting  you can't have one-on-one interactions with the teachers, which we feel is very important to learning.  I was told that professors would meet with us after any lecture to assist with any questions and that there are also tutors on campus to assist if needed.
We also had a lot of fun on the trip, we got to know your 360 school a lot better and realized we have a lot more common than we had thought. Also there may or may not have been some singing/lip syncing going on throughout.   We also utilized the hotel gym to squeeze in a quick workout, which were sure our PE teachers from both schools would be happy with.  We may have also received a late night invite to go swimming in the hotel pool, which we may or may not have taken advantage of but no worries it was within the hours allowed by the Hotel.  Also there was a nice hot tub but it made us a bit ashy but well worth it. Both students and chaperones took a plunge!   We also went on a dinner cruise with a lot of the other conference participants which was a lot of fun.  The food was great although they could have added a bit more flavor to a few of the meals.  The ice-cream was beyond delicious.
Another part of the trip included a visit to an educational complex which included a High School, Middle School, Elementary School, and even a Kindergarten Class combined. We also found out that they had Administrative Offices in the building that housed the Superintendent.  They were all in the very same building which surprised us. The school we visited seemed very diverse school which we liked. They also had classes in multiple languages….K-12
In closing, it was a trip well never forget.  We had 4 guest speakers to wrap up the Conference and we really enjoyed the bonding we had, the friends we made, and the new experiences we had.  We met many new friends some of which we feel will end up being lifelong friends.  Our Administrators, Pasa, and the Barr Grant made this possible and we are very thankful.   We were proud to represent JSEC.  We urge any student who gets the opportunity to experience an opportunity like this to seize upon it as it will be a memory that will remain forever.   Just some of the memories are depicted in the photos below.
-Adaliza Espinoza & Jadelyn Santos