Teacher in the Spotlight-Gabriel Figueroa
Teacher in the spotlight: Gabriel Figueroa             
Written by: Jaya Richard 
This fall, Juanita Educational Complex has welcomed many new teachers from all around Providence. The Cavalier Chronicle wants to recognize these teachers for their past and future accomplishments. And of course, voice their future plans for life in and out of school. This includes information on how they got here at JSEC, what they do here at JSEC, and past accomplishments in their youth. Gabriel Figueroa, a boxing coach and JSEC alumni, is now teaching developmental writing in the very same school. 
In his past, he worked as a substitute teacher for Providence Public Schools, including various middle schools and high schools all over the city. After graduating high school, Gabriel got into the University of Rhode Island through the Talent Development program, majoring in economics and history. While competitively boxing in college, he was also able to study abroad in Cabo Verde, and Cuba furthering his understanding of economics, philosophy, and political science.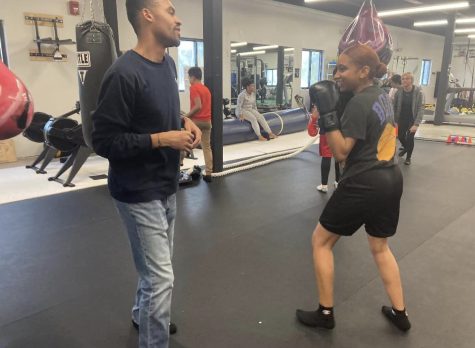 He started his teaching career in 2019. Aside from his work as a substitute teacher, Gabriel also coaches boxing afterschool for the HUB run by Providence After School Alliance. He also works at a local gym in which he coaches ¨people the fundamentals of boxing, self defense and ring generalship.¨ The gym is called "American Muscle Corps" and is located (02860 Pawtucket Rhode Island.)
In his free time, Gabriel explains how he doesn't "watch much tv or streaming media ". but rather enjoys reading, running, cooking and playing chess. He is currently learning how to rock climb. Gabriel's favorite book is "Never Split the Difference" by Chris Voss. He favors this book because it gives great insight on ¨how to get the best out of any situation¨. When questioned, he exclaims how he favors most music. But further elaborates his dislikes for pop, country,  Dubstep, and heavy metal music genres. As for food preferences, Gabriel expresses his inclination for caribbean foods, fruits like melons and berries, fried chicken and red snapper. ¨Rasoi and garden of eve¨ are his current favorite restaurants located in the Providence area.
In his high school years Gabriel describes how he was a "cool and laid back student" and  in college too! Words of advice from Mr Figueroa to his students to help them succeed in school and in life in general, would be to "Do what scares you. Stay the heck out of your comfort zone, and open up your mind!" (Figueroa, 2022) When asked why he teaches he answers: "I teach to give back to the youth" and "I learn something new everyday I teach". (Figueroa, 2022) As you can see, Mr Gabriel is overall a brilliant and  adaptable man with a bright future and a marvelous addition to our school. Thank you, Gabriel, for meeting with me. It was a pleasure and I hope to see you around the halls, pursuing your dreams, and continuing to be an awesome teacher. "I want to travel the world, while trying new foods, playing chess and boxing ." (Figueroa, 2022)