Easter Egg Hunt Was Eggggcellent!
On Thurday, April 14th, 2022, Ms. Gormley's class prepared and Easter Egg hunt for JSEC's ECS Classes.  Her 1st and 2nd period classed took empty egg shells and filled them with all sort of goodies including; Kit-Kats, M&M's, Skittles, jelly beans, Sour Patch, and of course Hershey Kisses.  The eggs were loaded and after filling them both 1st and 2nd Period students took hundreds of them outside to hide.  Hiding them in spots that would be challenging was easy, as there are so many great spots outside the doors of JSEC.  Prep work was done and now it was time to go inside, speak to the ECS Classes to give them instructions of how this "eggggcellent Easter Egg Hunt was about to go down.  Students setting up the Easter Egg Hunt seemed more excited than the students on the hunt themselves and the hunt had not even begun yet.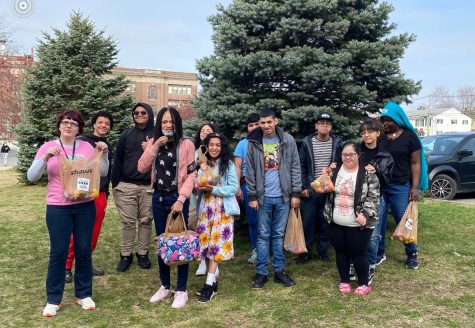 The hunt was fun, and it felt good seeing all the students smile as the were given an Easter Hunt bag to collect their eggs.  Each student got about 20 eggs each and seemed pretty happy about the candy inside.  The hunt lasted about 2o minutes then follwowing the hunt all the students took advantage of the nice 63 degree weather.
Special thanks to all who assisted with the prep work, instructions, working with the students to retrieve their eggs/candy, and just for supporting other students to have a great time.  It was nice to work with these students to put a smile on their face just before spring break!