Poetry Slam Success, JSEC Hits Grand Slam at PPSD's Poetry Slam
On this day in time, April 26th, 2022,  we attended an event in which students from several Providence schools came together to present their poetry.  JSEC students read poetry, that they themselves created,  to the many students and instructors in the audience throughout the ceremony. "We were able to go through the students' viewpoints and emotions as they offered their ideas, feelings, and experiences in the form of writing.  We even had a JSEC Teacher, Mr. Nick Barao,   present a poem while sharing and expressing thoughts in his poem. We all had a good time and even had the chance to taste baked goods which were spread out on a large table.   We even brought an entire batch home because the large baked cookies were so tasty and plentiful.  Participants and audience members analyzed each other's poems in private conversations with other students and professors. While we presented, photographs and films were shot, and at the conclusion, we all posed for a photo and received a certificate for the day.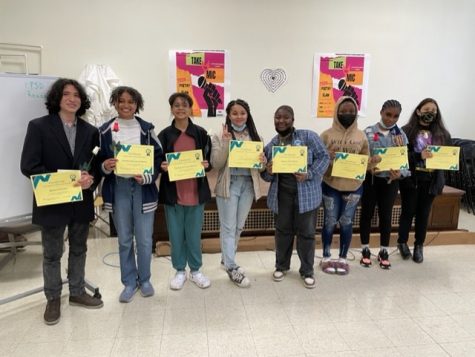 "Four  students represented JSEC very well yesterday at the Teen Poetry Slam.  The students, Richard Garcia, Jennifer Germosen, Yesenia Germosen Polanco, and Aidile Gomes, made up half of the student poets who participated, more than any other high school.  Please give them some positive feedback if you see them this week.  They expressed themselves well and shared their poems with me.  I will feature excerpts for our quote-of-the day feature on the morning announcements over the coming days.  Thanks also to Nick Barao for sharing one of his poems and to Tacey Hellewell for attending the event to offer support"-Mr. Quesnell
Here are some samples of our student's work:
*********************************************
A Special Day For Me
Written by: RICHARD GARCIA POEM #1
Bright shiny day, running with my team
Sun burning my light skin
Seeing us all succeed and win 
Seeing her makes me forget the burn
Her looks mislead me 
Dusk arrives in a flash 
The Night flies fast within her touch 
Her grasp lights up the room, her lips brights up the night 
Our time flies faster than the arrival of dusk 
Time disparts us 
Lost my light for the dark, feeling my burned skin once again. 
Drivin with obscurity, yet masking myself in such purity
Replicating half the night without my light 
The cold darkness takes place around me 
Sitting down smiling all alone 
remembering 
I found a girl who said she loves me. 
********************************************
A Flower
Written by Jennifer Germosen Polanco
I lingered in my thoughts
Again and again
I lived in the darkest of holes
Ever since my memory can recall
And I liked being there
Faking a fluorescent smile.
I grew to like the pain that became a part of me and
I stored it away.
Great,
Great is the sorrow that dawn brought to my watery eyes.
Every night as I laid in bed
There was a ritual reminiscing
Of the pain.
That was real.
Nothing
Not even the finest of acts
Could make my heart believe that the smile on my face was real.
What was real? At this point
Only the darkest of holes seemed to be real
And thats how the world seemed like
To me.
But there
In the darkest of holes
I trampled upon a flower
Thats what your eyes seemed to look like -a flower full of beauty.
The only thing I wondered was how I was able to see such beautiful
flower in pith black emptiness.
I did not let the wonder keep me away from enjoying that flower
Because I had never seen beauty so clear in front of me
Until I saw your eyes.
They glistened and sparkled
They blinked
And as they did I could see that there was light coming from them
Because for the second in which your eyes closed
There was darkness
And as you opened them back up
There was light.
That was when I realized
I was no longer in pith black emptiness
Or in the darkest holes
Because you were there.
And I also realized
That the reason why I was able to see such beautiful flower
Was not because I looked at your eyes
But because you
Saw
me.
Unspoken Truth
Written by: RICHARD GARCIA POEM #2
Grieving yourself with foal words, under an angelic figure 
People talk and talk good of you
and yet you seem to not care 
behind your fake smile and laughter 
There's a lost scared little girl
But not asking for help but to be helped.