JSEC Holds It's First Parents Night of 2022-2023 School Year
JSEC knows parents' lives are super busy so planning of our first parents included a mix of items that could be seen as "one-stop shopping".  JSEC planned a Parent's Night that was around dinner time so parents could come,  eat here with us, learn about their student's progress, and learn about the many different in class and out of class programs here at JSEC.  In addition to this the main goal of the night was for parents to get to meet their student's teacher.  JSEC knows parent engagement can take on many different shapes and sizes so JSEC thought having a very inclusive Parents Night would be best especially as we near the end of the 1st quarter.   Teacher work best when parents become involved and this is just one of the reasons this Parent's Night was so important.
On Thursday October 27th, 2022 JSEC held it's first Parents Night of the 2022-2023 calendar year.  curriculum, social issues, technology, the school's vision and mission, student work, or some other live issues that students are facing?  The night was filled parents, students, and administration all interacting and having many conversations about school related items.  The intent of the evening was to generally inform parents to learn more about everything JSEC.   Also, it was important that parents knew there are many resources here at JSEC to help support their student.
Here are just some of the mini-events that took place:
Parent's Night Events:
Math Tutorial, MLL/ELL Information & Assistance Table: As all students and parents know, tutors make Math infinitely easier. Finding some good people—both teachers, parents, and mentors—to help guide the process is step one.  Information was given on MLL/ELL Programming at JSEC.  There was a sign up here for any parent to sign up their student to participate in this program
.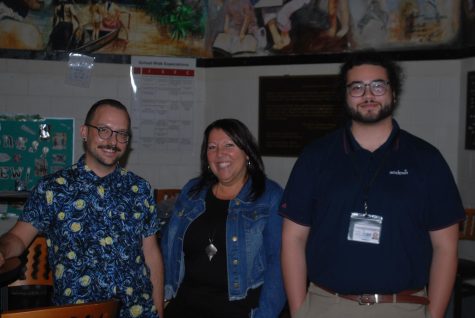 Parent Teacher Organization Sign Up:  JSEC is forming a parent group so they can plan events at the school, provide feedback, and enrich what's being taught at JSEC.  It's an open organization and all parents are welcome to join and participate.  Often many parents  related to p about which general topic they would like to focus on. Teachers also have some good ideas, so be sure to include them in the process. At times, we will have one session in the fall about one topic and another in the spring about something completely different—it just depends on what we feel we need at that time. We also try to rotate the areas we focus on to make sure we continue to engage all parents.  Any parents who would like to join the JSEC PTO should contact Ms. Paola Birbuet, who is the JSEC Parent Coordinator.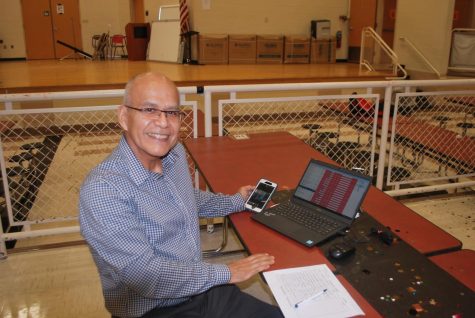 Food/Raffle/Scavengar Hunt:  Parents were given a card to bring with them to all teachers they me or stations they went to.  Once the card had all signatures it would be entered into a parent raffle for a few awesome prizes.
Teacher Meet & Greet: The best part of Parent's Night (besides the catered food) was a chance for Teachers to speak to parents about the students progress.  This is always great to compare notes of whats happening at school and get some insight of home life and develop a plan to ensure students are at their optimum potential level.  Usually home effects school and vice versa.  Dozens of in-depth conversations took place with emails and phone #'s being exchanged.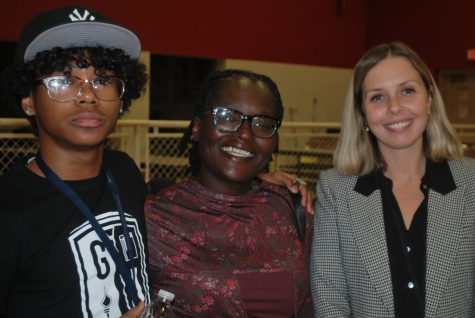 Social/Emotional Learning:  Social emotional learning or social issues are a part of any and all schools including JSEC.  JSEC considers mental health awareness of utmost importance.  Guidance counsellors and our school psychologist/social workers were on hand to speak to parents.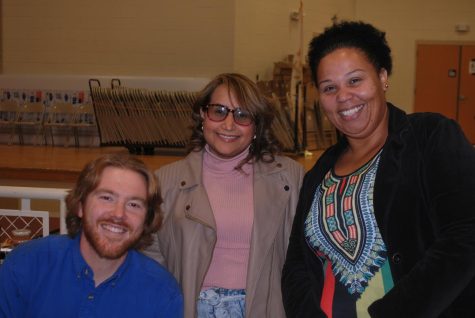 Parent Engagement:   Parents, like students, need to be engaged: discussing, moving, thinking, reflecting, and sharing so the night was filled aspects to engage parents to become involved and become more informed.   The night was set up to maximize parent engagement with teachers and school staff.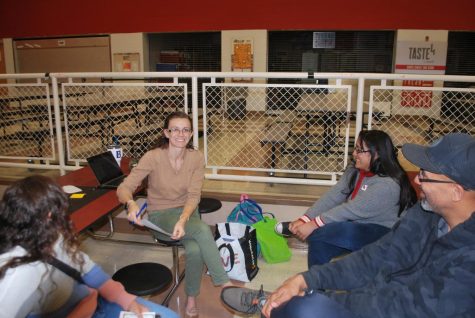 Photos Taken:  The Yearbook Staff were in attendance to include photos from this night that will go into the 2022-2023 JSEC High Yearbook.  Chances are if you had your photo taken during this event you will end up in the school's yearbook which is one of the hottest publications the school produces and get's distributed at the end of the school year in June around graduation.   Any students may order a 2022-2023 JSEC Yearbook which is about 100 pages of  'everything JSEC'. 
Overall pictures speak volumes so our newspaper staff thought it was important to allow these pictures to tell the rest of this story. Pics are worth 1000 words and those words from our 1st Parents Night seemed to be all super positive.   We would like to close this article with a mini-photo gallery from the night: